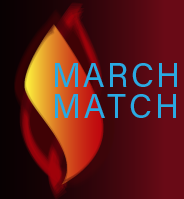 The Washtenaw Alano Club is a non-profit, self-funded organization. We generate the funds to pay the staff, pay our taxes, pay for the utilities for the building, pay for supplies, pay for repairs, pay for improvements, pay for events and pay for everything that is needed to operate through: meeting rent, profit from concession stands, contributions, and fundraisers.
Every year in March since 2018, the Club has had a very special event to help raise funds for our organization – namely our "March Match Fundraiser". We are excited to support the club again during the upcoming month with our annual fundraiser.
Unlike previous years, when we raised money for specific projects, this year the financial impact of COVID has finally affected the Club's ability to keep the doors open. We do not have the same, solid revenue stream from the meetings that we had pre-COVID. In-person attendance has not yet returned to pre-COVID levels. Inflation affects our costs and the costs of living for our staff. Thus, it was important to give the staff raises in order to help them keep pace with inflation. We had more grounds expenses than usual. Funds raised this year will be earmarked for shoring up the overall budget so that we can keep open the same hours, maintain the grounds, and pay our bills.
Generous donors have already pledged to match donations during the month of March! Every dollar that you contribute to the Club will get matched with another dollar. Double your donation simply by donating.
This year, our goal is to raise $30,000. For the past several years our club has been extremely fortunate in meeting our goals.
If you would like to continue the yearly tradition by participating in this year's March Match, any contribution would be greatly appreciated. Donations can be made on our website, on our Facebook page, by mail via check, or in-person at the Club.
Thank you for caring about the Washtenaw Alano Club.