WAC: 50 Years of Service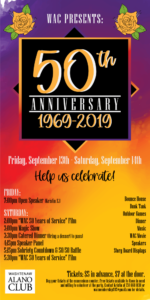 Our Club was founded 50 years ago, when a small group of people in recovery decided this area needed an Alano Club and began the process of creating what we have today.
After several years of work establishing ourselves as a nonprofit business, we finally found our first home on Fourth Avenue in 1975.
This is where the first Al-Anon and AA meetings of our Club were established, and social events began. However, in the 70's this area of town was not exactly family-friendly.  So, we started looking for a new location.
In 1978, the members settled in an office building on Packard Road for a short period of time, followed by the move to the State Street Club, which many of our Club patrons still remember. We had dances, played cards, started softball and volleyball teams, and continued building on what our founders started. We stayed on State Street from 1980 until 1987 when we were notified that our lease would not be renewed, the property was going to be used for other purposes, and we had 60 days to vacate.
Scrambling to find a new home, we discovered the Ann Arbor School Board was selling 995 N. Maple Road (our current location). We were not the highest bidder but were granted the bid because of our mission:  to serve the community. We now own our property and have called it home ever since.
Fast forward to 2019 – we get to celebrate this achievement, the people who have participated, and the opportunity to serve the recovery community, 50 years strong.
Please join us for the big celebration on Saturday, September 14th starting at 2:00pm. Enjoy a catered meal, family-friendly activities, the "WAC: 50 Years of Service" movie, open speakers, and much more.
Tickets are for sale at the counter for $5 in advance, and $7 at the door. Free tickets are available to those who can't pay and are willing to volunteer at the event.
Help us celebrate!
Hours of Operation
Monday

9 am – 9 pm

Tuesday

11 am – 9 pm

Wednesday

11 am – 9 pm

Thursday

11 am – 9 pm

Friday

11 am – 9 pm

Saturday

8 am – 9 pm

Sunday

8 am – 9 pm
| | |
| --- | --- |
| Sign up to get interesting news and updates delivered to your inbox. | Sign Up |
How to get a hold of us
Washtenaw Alano Club 995 North Maple Road Ann Arbor, MI 48103
Phone

734-668-8138

Email
There is plenty of parking in front and around the club, cars and motorcycles and a bicycle rack. We are also conveniently located on a north and south bound bus line.
Look for route 32
.